Accolade is completing first photovoltaic farm in an industrial park in Bydgoszcz
by CIJ News iDesk III
2022-08-11 00:58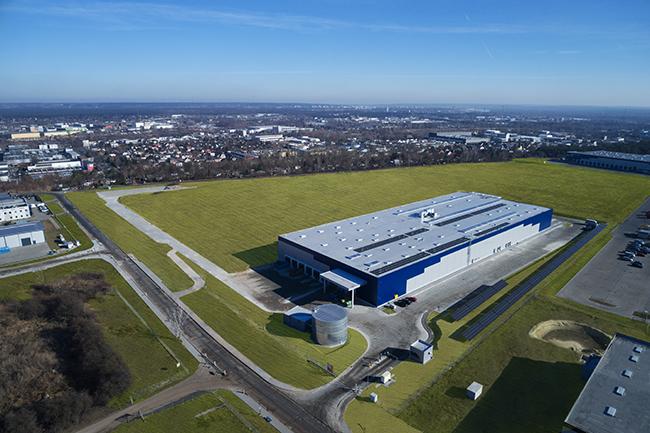 The Accolade Group, which invests in industrial real estate, is responding to rising energy prices with a strategy to increase the use of renewable resources. The investor installs solar farms on the roofs of most of its warehouse facilities. The current energy situation has prompted the company to accelerate the implementation of the long-term energy plan, which is part of the group's ESG strategy. Accolade has installed its first photovoltaic power plant in an industrial park in Bydgoszcz, and in the future it plans to develop more roofs in industrial parks throughout Europe.

The first Accolade solar power plant is located in an industrial park in Bydgoszcz, where 810 panels have been installed - some on the roofs of warehouses, some on the surrounding plots. The panels cover a total area of ​​1,500 square meters, which is the same as a hockey rink. Their full capacity is 300 kWh, which means an annual production of 300 MWh. If everything goes as planned, all the energy produced will be used by the park's tenants. Any surplus can be discharged into the grid, used to power car chargers, enabling low-emission commuting of employees.

"The construction of a photovoltaic power plant in Poland is favored by the recently adopted act, which requires an increase in the production of renewable energy; this trend is already clearly visible on the market. - The Bydgoszcz power plant is the first renewable energy project for Accolade. In our Polish portfolio, we also plan such installations in parks in Bydgoszcz-Lisie Ogon, Zielona Góra II and Piła. Solar power plants will be designed to provide maximum power, taking into account the specific conditions of each location. Our goal is to install photovoltaic panels in all our parks in Poland by the end of 2024. We want to do the same in all the countries where we operate," comments Jan Pavlík, Head of Energy at Accolade.

"Photovoltaics is our first step in the process of using green energy. We also plan to charge electric cars, install more heat pumps and produce hydrogen. Our ambition is energy efficiency of the parks, to become as self-sufficient as possible in the future, and even to generate more energy than we consume. We are deeply convinced that in the light of climate change and the current energy situation, a sustainable path is the only right one, not only for our tenants, but for all of us," says Lukáš Répal, Accolade COO.

"Installing solar farms on the roofs of all Accolade warehouses will allow tenants to cover up to 30% of their total electricity consumption. In addition to low environmental impact and reduction of carbon dioxide emissions, in times of rapidly rising energy and raw material prices, modern premium industrial parks should also provide full comfort to their tenants, which includes the possibility of operating at much lower and more predictable operating costs," adds Pavlík.