Ara Adjennian to head up MIMCO Asset Management in France
by CIJ News iDesk III
2021-06-08 10:35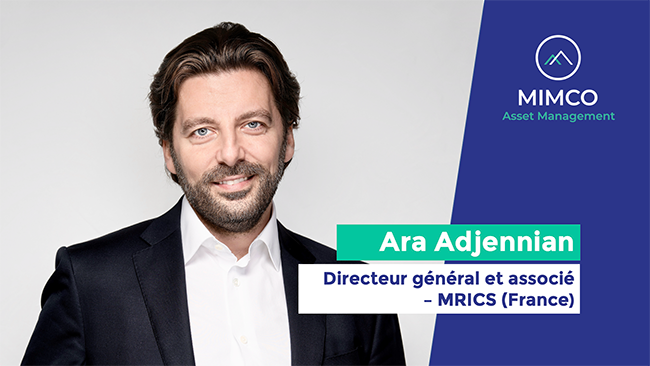 MIMCO Capital announces that its French subsidiary MIMCO Asset Management will be co-managed by Ara Adjennian who joins the shareholders of the MIMCO Capital group as Managing Director and Partner. Ara will be responsible for continuing the group's growth momentum.

"We are delighted to have a talent like Ara Adjennian join our venture. Our group is recognized as a specialist in real estate investments in Europe and more particularly in value-added strategies. Ara's strong expertise in this area is a perfect fit with our strategy." said Christophe Nadal, co-founder and CEO of MIMCO Capital.

A recognized player in the real estate industry, Ara has over 20 years of experience in asset and fund management in the European commercial real estate market. He started his career as an asset manager at Cushman & Wakefield in France, where he managed a portfolio of over €1 billion.

He was then Investment & Asset Manager at HSBC REIM, responsible for investments for the SCPI Elysees Pierre and HSBC Insurance, before joining the leading global real estate fund TH Real Estate (formerly Henderson Global Investors and currently NUVEEN) as Director of Investment and Commercial Real Estate, for which he completed a number of major transactions across Europe.

He also managed retail assets on behalf of funds invested in France, Switzerland, Germany and Belgium in the amount of €800 million. More recently, Ara headed the French office of US investment group THOR Equities and completed transactions in France and Europe. Prior to co-founding MIMCO Asset Management, he led the investment team at DTZ Investors and oversaw the group's acquisitions.

Ara Adjennian holds a master's degree in real estate management with a specialization in property management from ESPI, a post-graduate degree in corporate real estate from the University of Paris 1, Sorbonne, and is a member of the Royal Institution of Chartered Surveyors (MRICS).

"Ara will be able to capitalize on more than 20 years of expertise in the real estate world to support the development of MIMCO Capital through the subsidiary MIMCO Asset Management. His internal culture and structured management approach will be great assets to foster our growth and develop our structure to become a major pan-European player on the Germany/France/Benelux axis."

Ara Adjennian, Managing Director and Partner of MIMCO Asset Management continued: "I am very excited to join an independent entrepreneurial group with a pan-European presence and culture specifically identified with value-added strategies. Our strong complementarities and convictions as well as the values we share will allow us to position ourselves on the European market and to offer alternative investment solutions adapted to our partners and investors."