CEDER Real Estate Conference Romania is only one month away
by CIJ News iDesk V
2022-04-26 15:37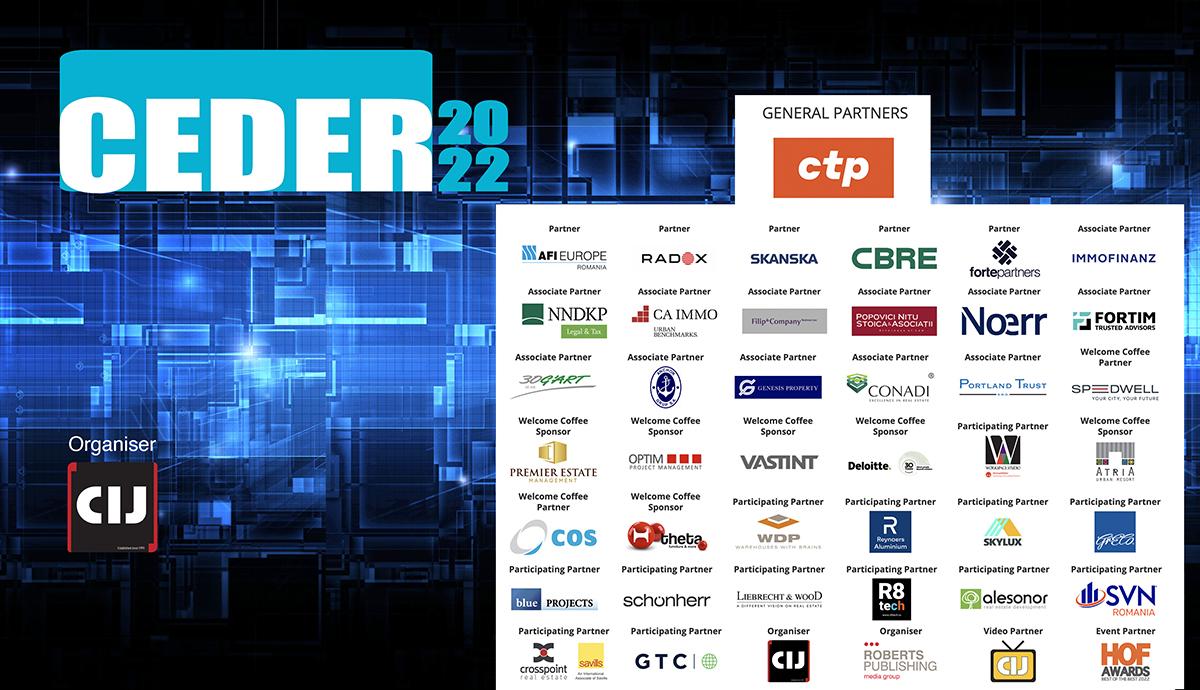 Romania's leading real estate conference, CEDER, now in its 15th year, is only one month away. CEDER will take place on 26th of May, at Radisson Blu Hotel, in Bucharest.

Make sure you have your ticket booked to the most eagerly awaited property conference of the year. For reservations please check our website: https://ceder.cijeurope.com/#overview

The list of speakers this year includes:
Doron Klein | CEO Romania & Czech Republic | AFI Europe
Aurelia Luca | Executive Vice President Operations Hungary and Romania | Skanska
Razvan Iorgu | Managing Director | CBRE
Ovidiu Sandor | CEO | Mulberry Development
Geo Margescu | Co-founder and CEO | Forte Partners
Florian Nitu | Partner | Popovici, Nitu Stoica & Asociatii
Didier Balcaen | General Manager | Speedwell
Sorin Ioan Blaga | Chief Executive Officer | Liebrecht & wooD Romania S.R.L
Sebastian Gutiu | Managing Partner | Schoenherr
Andrei Koszti | Regional Commercial Manager| CTP Romania
Sergiu Cadar | Founder & CEO | Somproduct
Marian V. Popa | Managing Director | Globalworth Romania
Stefan Ferdinand Vayna | CEO | Masterbuild
Cristiana Rosu | CEO | Radox
Antoniu Panait | Managing Director | VASTINT Romania
Geanina Ungureanu | Senior Leasing and Asset Manager Retail | Immofinanz
Marius Scuta | National Director | JLL
Ziv Gigi | Country Manager | GTC
Serban Patriciu | Head of Real Estate Department Romania | Noerr
Ștefan Tudos | Vicepresident, Leasing | Genesis Property
Alex Skouras | Managing Partner | Alesonor
Roxana Stanciulescu | Head of Retail Leasing | AFI Europe Romania
Ioana Roman | Partner & Head of Real Estate | Filip & Company
Gijs Klomp | Business Development Manager | WDP
Alina Alpaslan | Finance Director | Skanska
Andreea Comsa | Managing Director | Premier Estate Management
Ioana Niculeasa | Partner-Head of Real Estate | NNDKP
Andrei Sarbu | CEO | SVN Romania

CEDER Real Estate Conference Partners this year are: CTP, AFI Europe, Radox, Skanska, CBRE, Forte Partners, Immofinanz, Anchor Grup, NNDKP, CA Immo, Portland Trust, Bog'Art, Filip & Company, Genesis Property, Speedwell, Popovici, Nitu, Stoica & Asociatii, Atria Urban Resort, Fortim Trusted Advisors, Conadi, Noerr, Vastint, Optim Project Management, WDP, THETA Furniture & More, Deloitte, COS, Premier Estate Management, Reynaers Aluminium, Liebrecht & wooD, Blue Projects, Schoenherr, SKYLUX, Workspace Studio, Greco, R8tech, Alesonor, SVN Romania, Crosspoint Real Estate, GTC Romania.