Central Group starts selling a new stage of the Park District in Prague 3
by CIJ News iDesk III
2021-09-21 08:36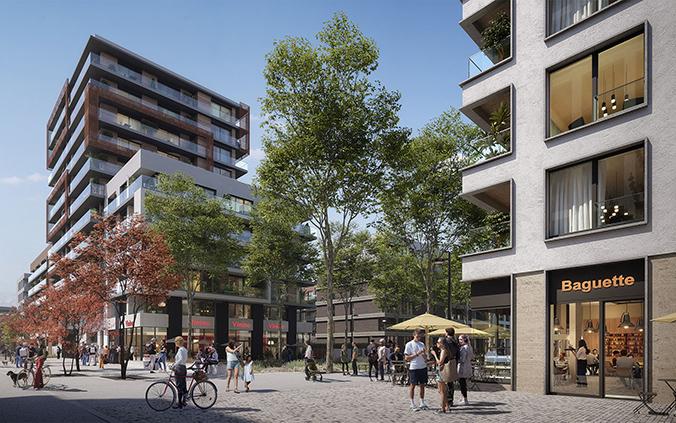 Residential builder Central Group is selling a hundred new luxury apartments in the 3rd stage of the successful Park District project in Prague 3. The unique transformation of the Žižkov Freight Station will create a new residential district with many shops, services, restaurants and cafes, a large park and a kindergarten.

"We launched the park district as our largest residential project to date in May this year. The interest in living here was and still is huge. In four months, we have sold or reserved over 60 apartments on offer. That is why we are now expanding it with another hundred flats in a new stage," says Michaela Tomášková, Executive Director of Central Group.

The great advantage of the Park District is its location just five minutes walk from the subway. In addition, a new tram line will run through the center of the site, which will further improve transport accessibility. The future district will offer not only luxury housing, but also a great opportunity for investment in Prague.

On the ground floor of the house there will be spaces for shops, services, restaurants and cafes. The project will also include a large six-class kindergarten with a garden and a large public park with an area of ​​1.5 hectares, which will connect to the adjacent park of the Jewish Furnace. The locality will be led by a pedestrian zone with mature trees and water areas for relaxation. "The promenade with benches, shops and restaurants will create a lively public space and a place for meetings, which is very important for a happy life in the city," adds Tomášková.

The park district is also unique for its architectural design, which is backed by 9 leading studios. They created a total of 21 different architectural concepts. The new residential area, despite its great diversity, maintains a unifying line. It is provided by the overall urban-architectural concept of the area in the design of the renowned studio of Jakub Cigler. In semi-enclosed city blocks typical of Vinohrady and Žižkov, houses with green roofs, stone paneling and other design elements will be built.

The apartments are designed in a luxurious standard of design, which includes air conditioning, wooden floors with heating, designer bathrooms, recuperation to ensure comfortable and healthy living and window blinds. Most apartments have an underground parking space, a cellar and also an increasingly popular outdoor space - balcony, terrace, loggia or front garden. The project also envisages preparation for the connection of electric car charging.

In the current stage, apartments in the tower, which dominates the entire district and from which a unique view of Prague opens up, are also on offer. The height of the other apartment buildings is connected to the surrounding buildings. The first new residents will be able to start moving to the new district as early as 2024.