Commerz Real leases 12,000 sqm to Warsaw's Municipal Office
by CIJ News iDesk III
2021-07-21 08:11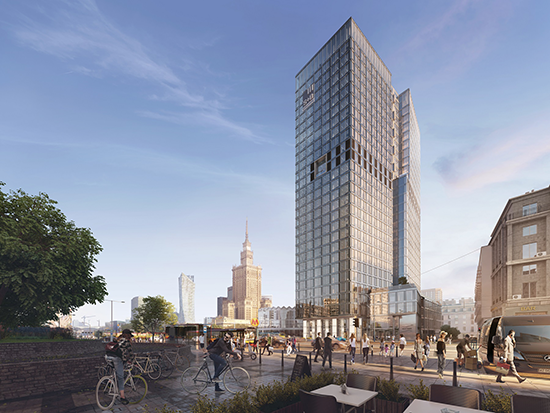 Warsaw's Municipal Office has leased 12,000 sqm in the recently completed Widok Towers in the Polish metropolis. The Technical City Hall will occupy ten of the total of 28 stories in the future. The high-rise complex, which was developed by Austria's S+B Gruppe, has been owned by the Commerz Real open-ended real estate fund hausInvest since 2014.

"In concluding this lease agreement, Widok Towers is underlining its significance as an outstanding landmark building in the heart of the Polish capital," says Mario Schüttauf, a fund manager for hausInvest. The 95-metre-high ensemble is located directly in downtown Warsaw at a rotunda junction formed by the Al. Jerozolimskie und ul. Marszałkowska roads, directly opposite Centrum metro station. The leasable area of approx. 34,800 sqm is essentially sub-divided into about 28,900 sqm for offices, about 3,600 sqm on the first floor, the ground floor and the first basement level for retail outlets and gastronomy, as well as about 1,800 sqm of storage space. In addition to a prestigious 15-metre-high lobby with a contact-free access control system, the complex has several – in part greened – patios, 130 car parking spaces and a large number of bicycle stands, as well as the corresponding changing rooms, lockers and showers.

Commerz Real and S+B Gruppe are aspiring to certification for Widok Towers to the international sustainability certificate LEED (Leadership in Energy and Environmental Design) in Platinum, the highest category. In addition, the "Well health & safety rating" of the International WELL Building Institute is being sought, which, among other things, proves the suitability of the building with regard to corona protection measures.