CTP becomes the lead partner of the Faculty of Civil Engineering of Brno University
by CIJ News iDesk III
2022-10-20 14:50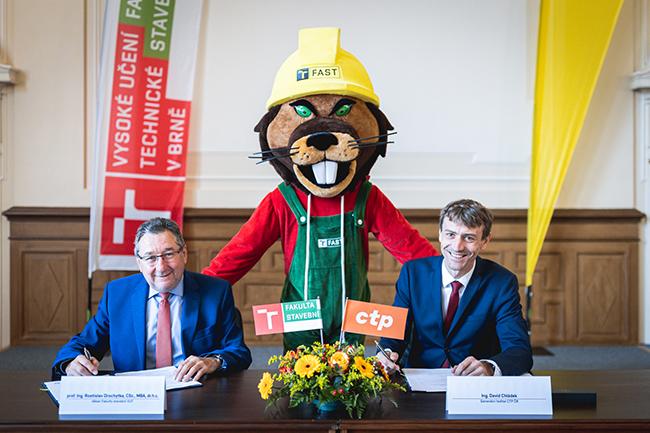 CTP becomes the lead partner of the Faculty of Civil Engineering of Brno University of Technology for the next five years. Within the framework of cooperation, the developer will share its experience and in-novative approach to creating modern industrial parks and business centres with students. Both parties want to increase the interest of students in construction subjects and at the same time support young talents, whom CTP wants to offer opportunities to practically apply their theoretical knowledge whilst still studying. The partnership agreement has been signed by David Chládek, Country Head of CTP Czech Republic, and Rosti-slav Drochytka, Dean of the Faculty of Civil Engineering BUT.

"I truly appreciate this cooperation, both professionally and personally, and I am very happy it has come into frui-tion. I myself have a degree in civil engineering and have been working in this field for a long time. I therefore believe that civil engineering offers young people a wide range of areas to study and, above all, great job and self-fulfilment prospects. I often encounter a shortage of people in the field, while the amount of work and number of orders are constantly increasing. The construction industry is not only varied but also a promising field with a view to the future, both with regard to the range of construction jobs and disciplines, and with regard to the constant development in the field of construction materials, working methods, technologies and, last but not least, the application of IT. I am convinced that it is essential to invest in the young generation that will shape the future of the entire construction sector, which is why we at CTP have decided to support this area of education, not only financially but also practically. I believe that this is the way to improve the quality of education, to bring it closer to reality and to gradually attract more young talents into the field," emphasized David Chládek, Country Head of CTP Czech Republic.

As part of the long-term cooperation, the developer wants to give students the opportunity to test their theoreti-cal knowledge in the real environment of the development company, through internships or shadowing of se-lected CTP employees. In addition, CTP experts will pass on their extensive experience to students during lectures and excursions in industrial CTParks in various development phases, from design, construction and approvals to leasing and building management. The lead partner will also help students in selecting and preparing the topics for their thesis, to ensure they have a real impact in practice. The best theses can even receive a financial bonus. Equally important is the active involvement of the CTP in the faculty's planned events.

"I am pleased that we have secured such an important partner of our faculty, which can offer our students a truly diverse range of knowledge and experience, thanks to CTP's active role in the fields of industrial, office and resi-dential development, with many innovative ideas that they are not afraid to implement. Therefore, I believe that this cooperation will bring not only wealth of opportunities for students and the entire faculty, but also that we will be a beneficial partner for CTP," commented Prof. Ing. Rostislav Drochytka, CSc., MBA, dr. h.c., Dean of the Faculty of Civil Engineering BUT.

To support young talents, CTP also wants to use ambassadors who would introduce students, and others, to the working life in such a dynamic and innovative company. One of the ambassadors is Jan Hübner, Construction Director of CTP Czech Republic, who has graduated from the faculty and joined CTP in 2004, where he had worked until 2009. He then relocated abroad to gain further experience and subsequently returned to CTP earli-er this year. Whilst he can offer his insights as an experienced professional, another ambassador, Vadym Ma-kota, a student of the Faculty of Civil Engineering at BUT, who has joined CTP as an intern and is now part of the development team, will be able to bring the early career perspective.