Czech Republic to have 12 hydrogen filling stations by 2025
by CIJ News iDesk III
2023-03-10 17:13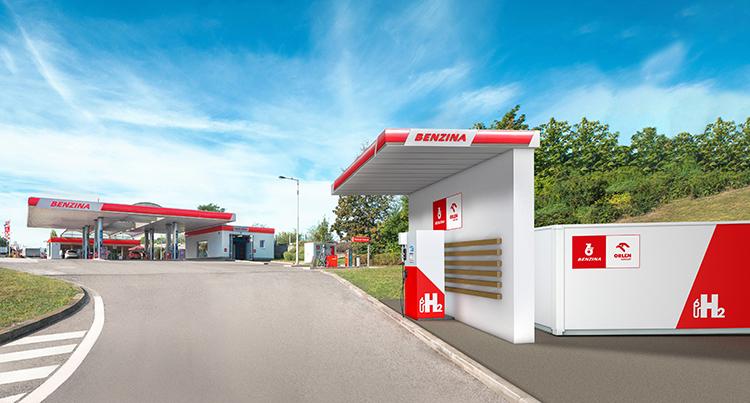 Czechia should have 12 hydrogen filling stations by 2025, and their number ought to rise to 40 in 2030, Transport Minister Martin Kupka said during the launch of Czech petrochemical group Orlen Unipetrol's first public filling station in Prague's Barrandov district.

The Czech Republic has Kc6bn ready for charging and filling infrastructure, and 11 hydrogen filling station projects are currently in the approval phase, according to Kupka.

Orlen Unipetrol wants to have a total of 28 filling stations in Czechia by 2030 and two hydrogen distribution terminals for rail transport in Litvinov, northern Bohemia, and Neratovice, central Bohemia. The group plans to open another filling station in Litvinov within a few months.

With a focus on the development of the petrochemical segment, decarbonisation, digitisation, recycling and the use of alternative energy sources, including biofuels and hydrogen, Orlen Unipetrol will invest Kc35bn in this direction by 2030, the group's CEO Tomasz Wiatrak said.

The Transport Ministry supported the construction of Orlen's hydrogen station in Barrandov under the Operational Programme Transport 2 (OPT2).

According to Kupka, the current plans for the construction of the stations do not yet reflect the present form of the draft European regulation on the introduction of infrastructure for alternative fuels, which stipulates that hydrogen infrastructure must be built on every 200 kilometres of the main TEN-T road network.

"We therefore expect an update of the National Action Plan for Clean Mobility this year," Kupka added.

According to Orlen, it takes three to five minutes to refuel a car with hydrogen, which is significantly less than the time it takes to refuel an electric car.

The introductory price of a kilogram of hydrogen in Prague is Kc278. A car can travel about 100 kilometres on one kilogram of hydrogen.

Kupka estimates that there could be up to 50,000 hydrogen-powered cars in 2030. Orlen plans to produce 4,500 tonnes of hydrogen from environmentally clean sources within the same period. This should be enough to power around 30,000 cars.