Doron Klein (AFI Europe) winner of the CEE/SEE HOF Award for Leadership of the Year 2022
by CIJ News iDesk III
2022-06-10 19:09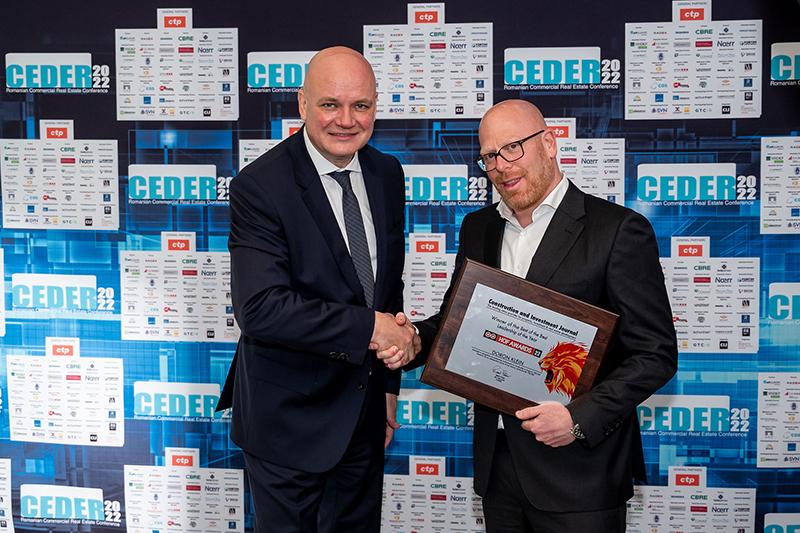 Doron Klein received his win for Leading Leadership of the Year CEE/SEE HOF Awards at CEDER Conference on 26th of May, at Radisson Blu Hotel, in Bucharest from Robert Fletcher, CEO/Editor in Chief of CIJ EUROPE.

Originally from Israel, Doron Klein has more than 20 years' experience operating in Central and Eastern European real estate markets, having been based in Czech Republic for most of that time. He joined AFI Europe in 2008, and since 2011served as CEO of AFI Europe's operations in the Czech Republic and Germany. Since 2018 Doron was appointed as the CEO of AFI Europe in Romania which was added to his position in the Czech Republic.

Doron has an MBA degree from the University of New York in Prague, Czech Republic and he is fluent in Hebrew, English and Czech.

The 7th annual edition of the HOF Awards was held on 21st April 2022. The Best of the Best Hall of Fame Awards is the climax of the CIJ Awards series, pitting the winning projects and companies from around Central & Eastern Europe against each other to determine who the Best of the Best really are. This year's event featured entries from the Czech Republic, Hungary, Poland, Romania and Slovakia. In the event's innovative and transparent voting system, a select group of real estate leaders from the region's vote as a jury in combination with votes from CIJ readers from around the region.