Eperia Shopping Mall in Prešov opens second stage today
by CIJ News iDesk III
2021-09-23 05:36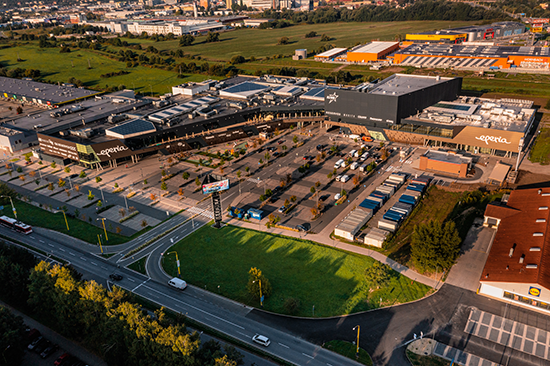 First modern regional shopping centre in Prešov, third biggest city in Slovakia, will open a second stage on 23 September. JTRE's expanded EPERIA Shopping Mall will include new fashion brands, restaurants, and a multiplex cinema - with the retail area increasing by 50%. The shopping centre will provide visitors with a wide range of customer services, more parking spaces, and new indoor and outdoor relaxation zones. People of all ages from Prešov and the local area will love spending time at EPERIA.

This addition of a further 11,000 sqm of leasable area over three floors will eventually deliver 25 new shops. Followers of fashion will enjoy the network of five stores of the Polish fashion operator LPP: Reserved, Cropp, House, Mohito and Sinsay will together cover 5,400 sqm.

"When EPERIA opened, we set ourselves the goal of bringing a regional shopping centre to Prešov with world-class design – a quality shopping experience that truly belongs to an exceptional regional shopping centre. The new fashion destination of EPERIA for the city and region of Prešov was mapped from the outset by a wonderful selection of fashion brands. As the second stage welcomes new brands – with the first stage at full capacity – EPERIA will rank among the top regional shopping centres in Slovakia," observes Peter Píš, director of JTRE's commercial real estate department.

The extensive entertainment and leisure range is being further complemented by the addition of KINO STAR's five modern boutique cinemas. Eating options have been increased with modern concepts in the food court, and a separate Burger King with drive-in.

In connection with increased floor space, the car park will have an additional 200 spaces to bring the total to 800 (mostly underground). A public transport stop has been added next to EPERIA, and improved roads will ease vehicle access from the city centre. The greenest shopping centre in Slovakia is cycle- and urban lifestyle-friendly, barrier-free, and has free WiFi. A rain garden with mowed meadow supporting colourful fauna and flora is a very attractive external feature.

Construction of EPERIA's second stage began in January 2020. The expansion was implemented by JTRE, which has been behind the project since day one. "EPERIA was our first retail project of such scale, and its second stage expansion will truly leverage its market potential. I believe we have achieved a good mix of shops, restaurants, and services to meet the needs of the over 100,000 residents in Prešov and the local area. With an enlarged EPERIA, Prešov has a shopping centre of supraregional importance," explains Pavel Pelikán, JTRE's executive director.

Two-floor EPERIA opened in November 2017 with almost 100 shops covering 22,000 sqm. Shortly after opening, preparations began on extending the centre - since visitor numbers had exceeded the owner's forecasts. "The first stage's success was due to an attractive mix of shops, services, entertainment and eating places, as well as factors necessary for the success of regional shopping centres: transport accessibility and parking spaces. Having acquired key tenants for the expansion and with increasing footfall,the decision was made to expand the shopping centre," explains Juraj Bielik, member of the board of 365.invest, správ. spol., a.s. (formerly the First Pension Management Company), which is part of the Skupiny 365.bank and a project investor.

The project was awarded for its high quality build by the Association of Construction Entrepreneurs of Slovakia at the 23rd Construction of the Year 2017 contest. EPERIA was the first shopping centre in Slovakia - and only the sixth globally - to receive the prestigious BREEAM Excellent ecological certificate at the BREEAM International New Construction 2016 scheme.

The official ceremonial opening of EPERIA's new part will take place on Thursday, 23 September and will be attended by the mayor of Prešov, Andrea Turčanová.