First building (36 200 sq. m) has been 100% pre-let in MDC2 Park Kraków South
by CIJ News iDesk III
2023-05-24 12:59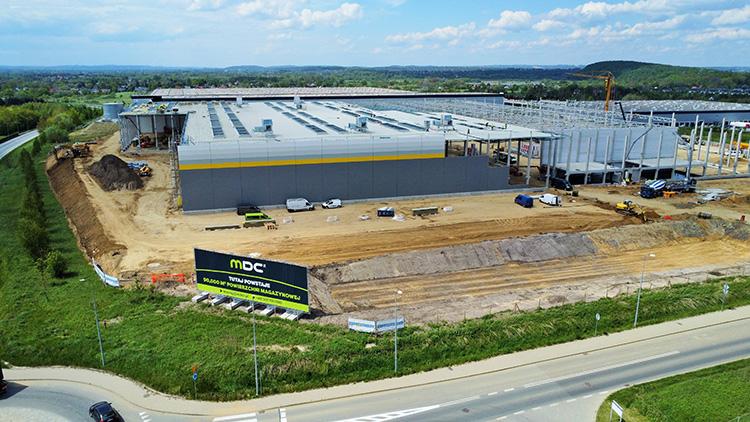 Construction of MDC2 Park Kraków South is advancing well. The warehouse park is located 13 km from the center of Kraków, in Skawina. It will consist of three buildings with a planned total GLA area of over 90,000 sq. m. The property is located less than 2 km from the A4 motorway junction. The entire complex will cover an area of 19 hectares.

Three buildings will be constructed, one of which with an area of approximately 36,200 sq. m. has already been rented to a global medical brand. The facility includes several technological solutions aimed at minimizing CO2 emissions to the environment: the roofs will be adapted for the installation of photovoltaic panels, LED lighting will be used in the project, and electric vehicle chargers will be located on the premises. The developer has also planned a rainwater retention system. The southern facade, which heats up the most, will be covered by a wall of climbing evergreen plants. Additionally, the Kraków facility plans to increase the insulation of the building walls to a level that exceeds the standard for warehouse facilities. 95% of the building materials used in the project can be recycled.
Within the site area of MDC2 Park Kraków South there has been planned Rest&Move zone, a relaxation and leisure area. The idea of the Rest&Move is to promote a healthy lifestyle and improve working conditions for all those who use the warehouse facilities. Around the buildings, there will be recreational areas as well as biodiverse green areas.
MDC2 Park Kraków South will be certified to BREEAM New Construction at an Excellent level.

The project is owned by Generali Real Estate (through the pan-European Generali Real Estate Logistics Fund, GRELF), specializing in investments in the logistics sector throughout Europe and managed by Generali Real Estate S.p.A. Società di gestione del risparmio. The developer is MDC2.

The completion of the first building is planned for the 3rd quarter of 2023, and the delivery of the second building (37,000 sq. m) being 1st quarter of 2024.