Geosan Development: starts construction of its 2nd phase Neklanka Residence
by CIJ News iDesk III
2021-09-21 10:45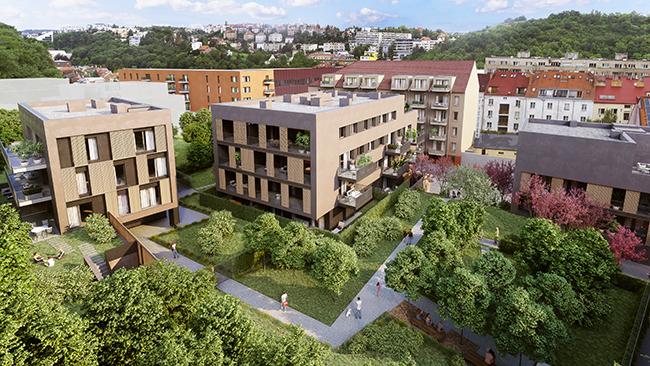 Geosan Development obtained a building permit and started construction of the chamber project Rezidence Neklanka 2 in Prague 5 near Anděl. The second stage includes three apartment buildings on the border of the original villa development and the forest in the Radlický Valley. In total, it has 31 apartments in layouts from 1 + kk to 4 + kk with its own balcony, terrace or front garden. The apartments are already for sale and currently 25% of vacant units remain. The expected completion date is in the first quarter of 2023.

"The villa houses will be adjacent to the first phase, while they will be set on a gentle slope above the Radlický valley: two new buildings will be built at Na Neklance Street and the third directly in the garden of the complex. From here it is just a short walk to Dívčí hrady or Prokopské údolí, which will surely be appreciated by all lovers of walking or cycling," comments Jiří Baloun, head of sales and marketing at Geosan Development, adding:" One of the main criteria when planning our projects is always , and therefore excellent transport accessibility and civic amenities in the area are a matter of course for us. A few minutes walk from the project there is a tram stop Laurová or metro stations Radlická and Smíchovské nádraží with a direct connection to the metro center, but you will find everything you need within walking distance."

Residence Neklanka 2 from the workshop of the architectural and design office Casua maintains its distinctive character, which is further underlined by partial elements of houses - whether it is cascading gardens in the facade, large windows with wooden slats or spacious terraces on the top floors of up to 80 sqm. All housing units are designed to a high standard with an emphasis on current trends and the use of natural materials. The project also includes commercial premises and a private car park with a green roof, gradually turning into a garden.

Within walking distance of the project there is a kindergarten and elementary school. There is also a wide range of sports activities: from the swimming pool, fitness center and tennis courts to the floorball or futsal courts. There are also a number of cultural facilities nearby: cinemas, theaters and exhibition galleries.

Geosan Development has been operating on the Czech residential real estate market for more than 20 years. Since its founding in 1998, it has completed 21 new buildings with a total of 2,300 apartments. Her current projects include the second phase of the Neklanka Residence on the border of Prague's Smíchov and Radlice and the Radimova Břevnov Residence in an exclusive location near Kajetánka Park. It has various projects in various stages of preparation with approximately 1,000 flats in attractive locations in the wider center of Prague. In addition, it also operates in the regions: in Choťánky near Poděbrady, it prepares building plots for the individual construction of family houses. In addition, in October 2018, the company expanded the spectrum of its business with office real estate, when it bought the Nagano Park administrative complex in Prague 3 with a total area of ​​26,000 sqm.