Globalworth's offices prepare for micro-mobility with support from E.ON Polska
by CIJ News iDesk III
2022-05-11 10:31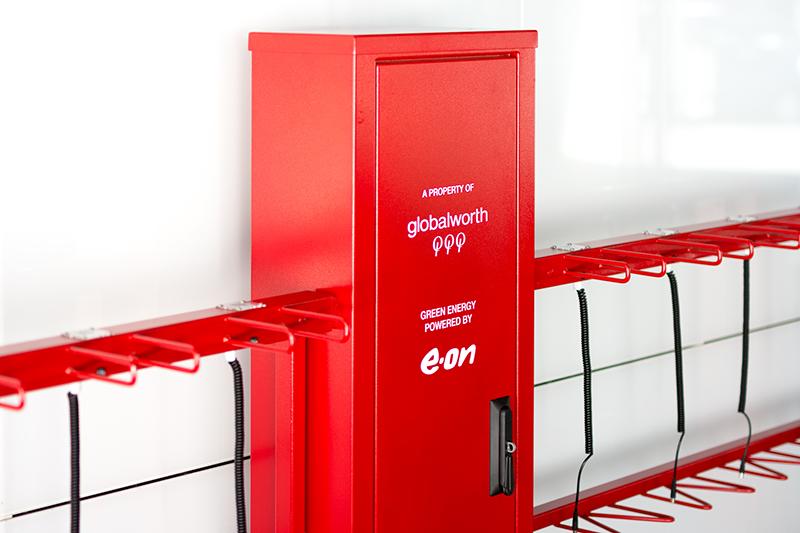 E.ON Polska working together with Globalworth, the largest office portfolio owner manager in the CEE region, has set a new standard in micro-mobility for the office sector. Workers and guests who come to Globalworth's buildings will be able to safely park and charge their electric scooters. Eleven charging stations have been installed for single-track electric vehicles in some of the largest business centres in Poland. A further three are to come on line in the summer.

Up until now E.ON and Globalworth have installed eleven charging stations in front of buildings and complexes that include both mixed-use and office centres, such as A4 Business Park, Silesia Star and Supersam in Katowice, Green Horizon in Łódź, Quattro Business Park in Kraków, Tryton Business House in Gdańsk, Retro Office House, West Gate and West Link in Wrocław and Skylight and Lumen in Warsaw.

"At Globalworth we place a lot of importance on protecting the environment and presenting an environmentally friendly position. eFeeder charging stations for electric scooters and bicycles marks yet a further green step that we have taken lately following our installation of electric vehicle charging stations in our buildings, raising the BREEAM certification ratings to Excellent or above for all our buildings and also moving to 100% green-sourced electricity. To help us in this process, we choose the best partners and the leaders in their fields. This is why we are so pleased to be able to complete this project together with E.ON," says Piotr Zatorski Senior Manager – Portfolio Projects at Globalworth Poland.

eFeeder is an innovatory design by E.ON (formerly known as Innogy) for building electric charging stations for electric scooters and bicycles, which at the same time serves as a place to park such vehicles.

"eFeeder is intended to create a safe place for charging micro-mobility devices while maintaining the spatial organisation and limiting infrastructural chaos," says Jerzy Nowak of E.ON Polska. "We are now trying to implement our idea together with out partners. Together with Globalworth, we are going to install a total of 14 new charging stations across Poland in different types of centres including office and mixed-use buildings."

E.ON Polska is part of the international E.ON Group, a leading international energy concern. As the E.ON Group, it serves approximately 53 million customers on 15 markets in Europe. The company brings together the largest electricity and natural gas distribution operators in Europe and owns over 1.3 million km of electricity, gas and heat distribution networks throughout Europe.