Globalworth to raise 145 million euro bank financing
by CIJ News iDesk III
2023-11-20 19:27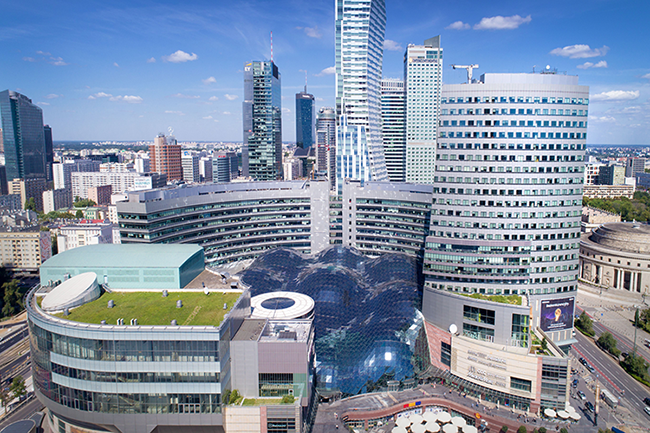 Globalworth received significant financing in the form of a bank loan of 145 million euros. The funding includes two flagship properties in Warsaw.

The funding includes Skylight and Lumen buildings at ul. Złota, which consists of one of the most prestigious office complexes in Warsaw, as well as Hala Koszyki – a multifunctional facility with the first in the food hall in the capital. The loan was granted by a reputable German bank for a period of seven years.

Effective financing is the best proof of the capital market confidence in our company and our business strategy. We are positively evaluated not only by our tenants, but also by financial institutions, confirming Global's credibility as a trusted business partner. The funds raised will be used to repay the group's remaining financial liabilities, which will further strengthen its liquidity profile," said Rafał Pomorski, Managing Director - Finance & Operations, Globalworth Poland.

Globalworth, the owner and manager of these buildings, used legal advice in the financial negotiations of Dentons, and the financial institution was legally represented by DLA Piper.

Skylight and Lumen buildings are some of the most famous and prestigious office buildings in Warsaw that offer comfortable areas that meet the needs of the most demanding companies. Tenants appreciate their location in the very center of the city and the direct vicinity of the Złote Tarasy shopping mall. Both buildings were included in the Globalworth portfolio in 2018.

The Skylight & Lumen complex has been implemented in accordance with the principles of sustainable construction, has BREEAM certification at the "Excellent" level and the rating of WELL Health & Safety 2022. In total, it offers over 49,000 sqm. A comfortable office space. The buildings are characterized by an excellent location in the heart of the Central Business Area, which guarantees proximity to public transport, Warsaw Central Station and a rich business, hotel, entertainment and cultural base.

Hala Koszyki was erected more than 100 years ago at Koszykowa Street in Warsaw at the then Koszyki farm. Designed in Art Nouveau style by the architect Juliusz Dzierżanowski, it only in the autumn of 2016 returned to the map of the city, as a unique social and culinary point, where you can eat in several restaurants and bars or buy groceries at home. The complex includes 15,000 sqm of office space and 6,500 sqm of retail space. The building can boast of the BREEAM certificate at the "Excellent" level.