JRD completes its Kratochvíle Stochovská residential project
by CIJ News iDesk III
2021-06-08 10:59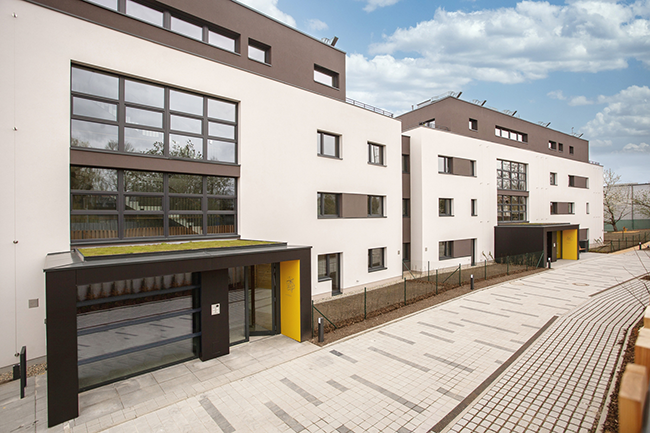 JRD Development, a member of the JRD Group, has completed the construction of Kratochvíle Stochovská in Prague 6 - Ruzyně. The energy-saving project with 34 healthy flats has now been approved and is already completely sold out. The four-storey house with two entrances Hvězda and Šárka, in which replicas of the local archeological excavations are located, adjoins a community garden with a children's playground, a pergola and a relaxation area with sun loungers and a barbecue.

The Kratochvíle Stochovská project consists of 34 apartments, complete with a front garden, balcony or terrace with enough space to place garden furniture. The healthy indoor environment is ensured by sustainable technological equipment and natural materials. The residential project also includes an area with a children's playground (with a gazebo with a climbing wall, a sandpit and a safe trampoline), a multi-purpose pergola and a relaxation area (with benches, barbecue, herb boxes, raised community bed and composter). However, the developer also implemented facilities for cyclists (with a service station and dishwasher) and a lot of greenery represented by mature trees, extensive green roofs over both entrances and plants in boxes on balconies or in the community zone. Some parking spaces in underground garages with heated entrances are prepared for the installation of charging stations for electric vehicles.

"Kratochvíle Stochovská grew up in the vicinity of the original village development of old Ruzyně, near the Divoká Šárka nature reserve, the Džbán dam and the Hvězda game reserve. This area has a really rich history, which we decided to bring closer to residents and their visitors. During the preparation of the project, we therefore actively cooperated with archaeologists, who carried out excavations here, and we then displayed replicas of the axes and vessels found in the display cases at both entrances to the house. We always care about the development of the locality where we implement our projects, and we therefore try not to forget its historical roots, "said Pavel Krumpár, Sales Director of JRD.