Mattel the toy manufacturer takes 660 sqm in Warsaw Skyliner
by CIJ News iDesk III
2022-11-16 10:26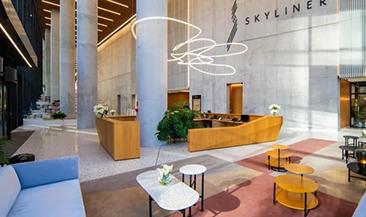 Mattel Poland is another global player to become a tenant of the Skyliner office building. The company is part of the Mattel corporation, a leader in the design, manufacture and sale of toys and other family products. The new tenant will occupy 660 sqm of space in the Karimpol Group's investment project in Warsaw's Wola district.

Mattel is a world leader in the design, manufacture and sale of toys and products for children and families. The company was founded in Los Angeles in 1945. Since 1980, Mattel has been the world's largest toy manufacturer. It owns iconic brands including the world's most popular and recognisable doll Barbie, Hot Wheels, Monster High, Thomas & Friends, Fisher-Price, Scrabble, Matchbox, and many others. Mattel employs nearly 30,000 people in 40 countries and sells and distributes products in more than 150 countries around the world. The key objectives of its strategy have always been to ensure the highest quality and safety of toys as well as protecting the environment. Mattel products meet all the highest global quality and safety standards in the toy industry.

The Polish branch of Mattel was established in 2005. Skyliner will be its headquarters starting in 2023. The company will occupy 660 sqm of office space in the Skyliner. The lease was brokered by CBRE.

"Warsaw's Wola is the most dynamically developing business district in the capital city and the Skyliner is at its heart. The qualities of our flagship investment are appreciated by local and international giants. We are delighted that Mattel Polska is now one of them. Our new tenant represents an industry which we have not yet hosted in Skyliner. I think that everyone knows Mattel, mainly through the toys it produces and the accessories which can be found in many a home. We hope that Skyliner will become just such a home for the Mattel team in Poland," said Harald Jeschek, Managing Partner at Karimpol Group.

The building's tenants include Aon, Bolt, Booksy, Capital.com, Coca-Cola Poland Services Sp. z o.o., Colonnade Insurance S.A. Poland Branch, the brokerage house X-Trade Brokers (XTB), DXC Technology iTechArt, Luxoft, MicroStrategy, Mindspace, Onwelo, Tarkett and Wento,. The office building is also home to MEET & EAT, a restaurant owned by the Nutri Mind Group, and a bakery and café Gorąco Polecam. Smaki z Piekarni (Enata Bread).