Ministry of Health: Daily number of vaccinations against COVID-19: 134,080, new infections: 5,709
by CIJ News iDesk III
2021-04-27 10:58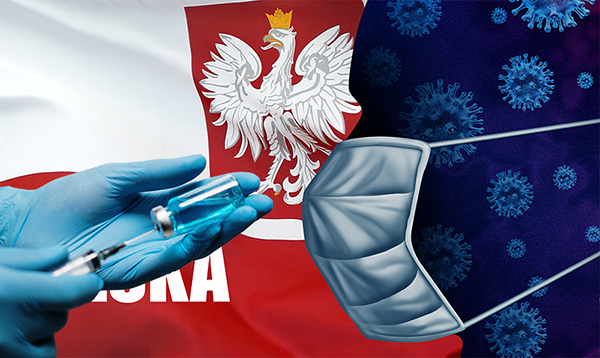 The daily number of vaccinations against COVID-19 was 134,080, with a total of 10,487,131 vaccinations, the Ministry of Health reported. The number of new and confirmed cases of infection was 5,709.

So far, 12,901,190 doses of the vaccine have been delivered to Poland. 11,404,640 were sent to vaccination centers and 10,993 were disposed of, the ministry said on the vaccination website.

The number of adverse vaccine reactions was 6,774.

The ministry also announced today that 5,709 new and cases of infection, confirmed by positive laboratory tests, have been reported.

"We have 5,709 new and confirmed cases of #coronavirus infection from the following voivodships: Śląskie (817), Mazowieckie (700), Łódzkie (592), Dolnośląskie (547), Wielkopolskie (500), Małopolskie (403), Kujawsko-Pomorskie (372) , Lublin (337), West Pomeranian (315), Świętokrzyskie (191), Pomeranian (183), Podkarpackie (157), Warmian-Masurian (153), Opole (152), Lubuskie (114), Podlasie (103) .73 infections these are data without indicating the address, which will be supplemented by the sanitary inspection "- the ministry announced on its Twitter profile.

The total number of confirmed infected is 2,768,034 people. The number of people who recovered reached 2,467,036.

During the last day, over 64.8 thousand. coronavirus tests, the total number of samples tested was over 14.1 million, the ministry also said.

According to the Ministry of Health, as of this morning, 193,781 people were in quarantine. 26,925 people were hospitalized (out of 45,022 beds for COVID-19 patients). 3,041 ventilators were occupied (out of 4,502 available in hospitals).

Since yesterday, students in grades 1-3 in eleven provinces have gone to hybrid learning, where in recent days there have been a lower number of new confirmed cases of coronavirus and the beauty industry has been opened: beauty salons, hairdressing and cosmetic salons in these provinces. The changes in the restrictions apply to the following areas: voiv. Małopolskie, Pomorskie, Zachodniopomorskie, Lubelskie, Kujawsko-Pomorskie, Warmińsko-Mazurskie, Mazowieckie, Podkarpackie, Świętokrzyskie, Podlasie and Lubuskie.

There are still restrictions on shopping malls, cinemas, theaters, museums, and closed sports facilities. The restrictions on hotels and accommodation will apply until May 3. The number of people in large commercial and post offices is limited to 1 person. on 20 m2. Closed sports facilities, except professional sports and outdoor sports.

As a rule, people who come to Poland are still required to undergo a 10-day quarantine (except for travelers from the Schengen area who present a negative coronavirus test result, taken no later than 48 hours).