Phase II of Kraft estate in Lodz receives an occupancy permit
by CIJ News iDesk III
2022-11-17 11:05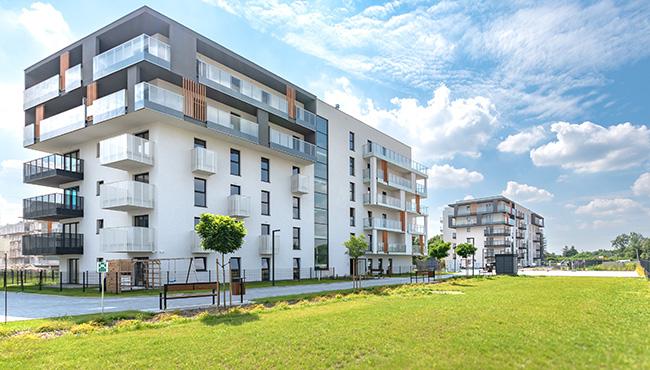 Developer Trei Real Estate Poland has received a use permit for the second stage of the Kraft estate, which consists of 87 apartments. With this, it is completing an investment in the Teofilow district of Lodz, comprising a total of 191 units and the estate's infrastructure with a playground and small architecture. In the near future, the company plans to develop another project in Lodz.

Construction of the estate on Traktorowa Street began in 2020, and in June 2021, the second stage went on sale with an offer of 87 units. The intimate 5-story building included studios and 2-, 3- and 4-room apartments ranging from 28 to 107 sqm with balconies, terraces or gardens on the first floor. The last 6 apartments are currently on sale.

The Kraft estate has received a lot of interest from buyers, who appreciated its convenient location, good connection to the center of Lodz and developed social infrastructure, allowing easy access to educational, health, cultural, recreational, catering services and shopping facilities. The project was built on the border of the Polesie district, known for its numerous parks and green squares. Within the estate, the developer also took care of additional amenities, such as an electric car charging area, above-ground parking spaces for guests, a playground, and spaces for relaxation.

"We created the Kraft estate with the comfort of daily life of future residents in mind. We combined a good location with rich infrastructure, as well as minimalist, modern architecture and a diverse range of apartments. Individual investors appreciated this project, which next to Bacciarelli 54 in Wrocław is our second residential investment in Poland diversifying our real estate portfolio,"says Jacek Wesołowski, Managing Director, Trei Real Estate Poland.

Despite the difficult market situation associated first with the pandemic and then with interest rate hikes and a drastic drop in the number of mortgages, Trei managed to maintain a satisfactory sales pace for the Kraft estate. 185 apartments from the pool of 191 completed as part of the two phases of the development have already found their buyers.

The Lodz market as one of the seven largest in Poland attracts developers. The high level of demand for new apartments translates into interest from buyers, especially those looking for offers from the popular segment, aimed at a wide audience. Over the past year, transaction prices in the primary market in Lodz have increased by more than 10%, which has encouraged individual investors to purchase units not only for residential purposes, but also with a view to capital investment.

"The economic potential, developed infrastructure and strong student centers make Lodz an attractive location for our investments. To date, we have completed two retail parks here under the Vendo Park brand and the Kraft estate, which was our first residential project in the city. In the near future, we plan to strengthen our presence in Lodz," adds Jacek Wesołowski, Managing Director, Trei Real Estate Poland.