Pilc's residence in Prague's Palmovka has been successfully approved
by CIJ News iDesk III
2022-08-09 04:21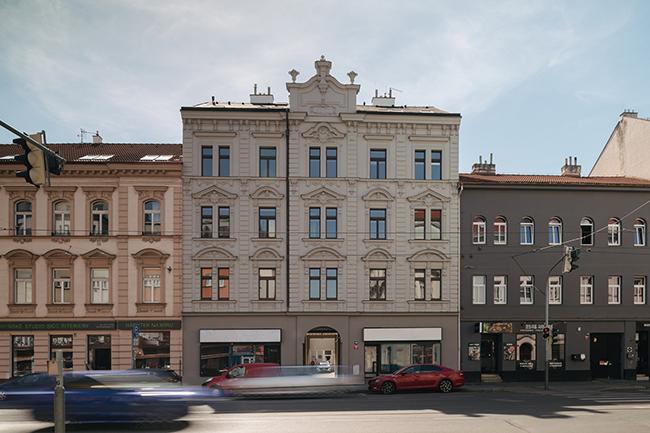 The chamber project of Pilc's residence in Prague's Palmovka has been successfully approved. It was created by a sensitive reconstruction of the house from the beginning of the 20th century and has a total of 14 apartments, two business units and a court building. All apartments have already found their owners who can gradually move.

Pilcova residence in Sokolovská Street has 14 units with layouts of 1+kk to 4+kk and with a floor area from 35 to 60 sqm. The Shell & Core solution allows new owners to be individually completed according to their own taste. At the same time, the developer prepared a model apartment in Scandinavian style with elements in natural colors, which was available during the sale. The ground floor of the building is divided into two business units, the basement belongs to the cellar. In a quiet courtyard are hidden parking spaces and there is also a courtyard building with several non -residential spaces.

With respect to the past
"We are proud of the Pilca Residence project. With respect for the craft art of old masonry masters, we gave rise to a distinctive place that fulfills the requirements of contemporary housing and active urban life. There was a great interest in the project, as evidenced by the fact that it was completely sold out before the approval, "says Štěpán Smrčka, director of PSN Development.

A terraced apartment building of a gallery type with a decorative facade made at the beginning of the 20th century the construction office of Jan Pilec - hence the names of the project. Over time, the building has undergone rich building modifications. Now the building with four above -ground floors and residential attic has undergone a sensitive reconstruction under the baton of PSN, which included, among other things, changes in heating or complete replacement of installations. At the same time, she retained a non -deceased facade that decorated her towards the street.

All needed for modern housing
At the site of an apartment building originally decomposed a vineyard homestead. This tradition is still reminiscent of the Park Podvin at walking distance from the project. Pilc's residence stands in the middle of the Dynamic district of Palmovka, which is characterized by full civic amenities, wide sports and great transport accessibility. Metro stations, trams and buses are only a few minutes from the project. There are a number of cafes, restaurants and bars in the area, and there are also varied cultural possibilities.