Sonar Development building "Zleep" brand hotel near Frankfurt am Main for Deutsche Hospitality
by CIJ News iDesk III
2023-05-10 08:10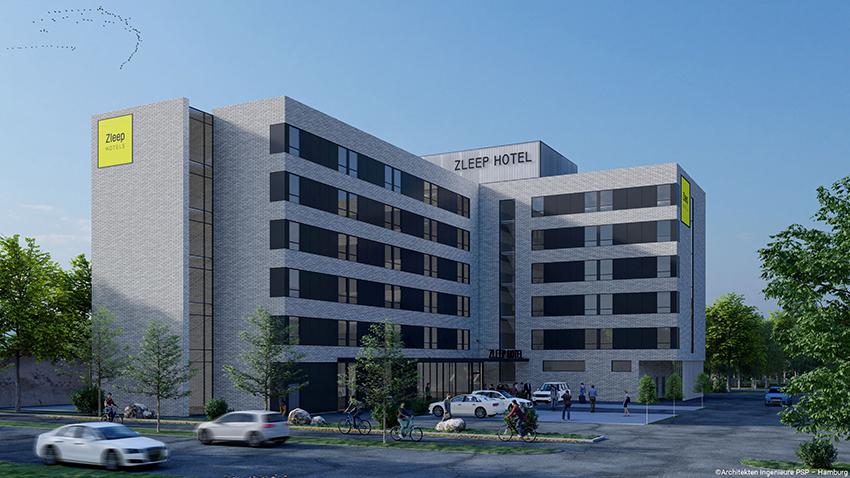 Sonar Development GmbH, an affiliated company of Sonar Real Estate GmbH, has been appointed to construct a new hotel in Kelsterbach with Deutsche Hospitality as long-term tenant by Four Points Development.

The new 175-room hotel on Fujiallee, in the south-western outskirts of Frankfurt am Main, will include 90 parking spaces. On completion, slated for the beginning of 2025, it will operate under Deutsche Hospitality's budget "Zleep Hotels" brand. Zleep Hotels highlight Danish design and efficient digital services, coupled with the use of high-quality, ecological materials and practical comfort. "We are delighted to be bringing Zleep Hotels to the Frankfurt-Rhine-Main metropolitan region," comments Frida Hansen, Vice President Development of Deutsche Hospitality. "We have two reliable companies, Four Points Development GmbH and their partner Sonar Development, working with us to realise this project and to drive the rollout of the 'Zleep' brand in Germany."

"We will do whatever it takes to ensure that the project is completed on schedule, while maintaining highest quality standards. We are very grateful to Deutsche Hospitality for the confidence they have placed in us and we are optimistic about our first collaboration," continues Dennis Spitra, Director Development at Sonar Development and responsible for managing the project.

"We are confident that the 'Zleep' brand will be successful in this location, not least because we are convinced that the hotel market will continue to gain momentum during the construction of the new hotel near Frankfurt," adds Steffen Wittwer, Managing Director at Sonar Development.

In a central location in the Frankfurt-Rhine-Main metropolitan region and with its contemporary concept, the hotel will cater for business travellers and trade fair attendees as well as tourists. What's more, Kelsterbach is an important location for logistics service providers and chemical production.

So far, Deutsche Hospitality's "Zleep Hotels" brand has been operating in Denmark, Sweden and Spain. Further hotel openings are to follow, this year in Prague and next year in Lausanne, Berlin and Zurich.