Sonar Real Estate GmbH founds development company
by CIJ News iDesk III
2022-05-12 10:08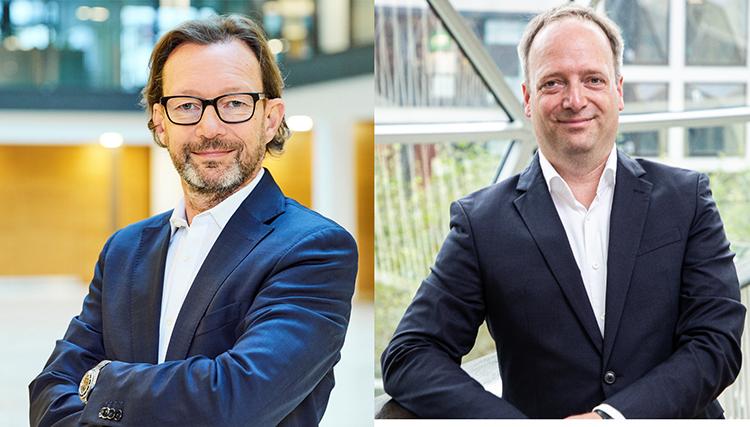 Sonar Real Estate GmbH, the owner-managed real estate company in the areas of investment, asset management and development, has strengthened its development division with the founding of Sonar Development GmbH, a new company under the leadership of Daniel Jäde and Steffen Wittwer.

In addition to undertaking its own projects and acting as an internal development partner for Sonar Real Estate, the company will primarily participate in joint ventures with German and foreign investors and Family Offices, to realise new development and revitalisation projects.

Explaining the objectives of the new business. Christoph Wittkop, managing director of Sonar Real Estate said: "From the outset, having the competence to realise even major construction projects in-house has been one of the cornerstones of our business model. By founding a separate company for these activities, we are accentuating the importance of this area to us, as well as responding to the already mounting demand for this type of service.

"The need for refurbishment and compliance with ESG standards is becoming increasingly apparent in more than a few existing properties. What's more, for our clients pursuing a value-add or opportunistic approach, we can offer concerted expertise and dependable quality in the implementation of their projects," he added.

Advances in digitalisation, new expectations in terms of work-life balance and sustainability, as well as changing user needs, particularly in terms of housing and shopping, mean that many classic property concepts will have to be rethought, while new asset classes will gain in importance in the future. Sonar Development is seeking out new trends and opportunities, taking advantage of the organisational structure already in existence at Sonar Real Estate for the implementation of the projects. This also ensures that development projects across Germany can be managed directly, by local staff.

One of the first projects that Sonar Development will be facilitating as the development partner of Sonar Real Estate is the revitalisation of "Prisma", the currently-vacant landmark office building in Frankfurt. Sonar Real Estate has recently acquired the property, at Hahnstrasse 55, in a joint venture with a fund advised by Patron Capital Advisers. The objective is to modernise the building, which has a lettable area of 42,450 square metres, with a focus on sustainability.

Sonar Development will also construct the extensions to "LAN 131", in Berlin's Landsberger Allee, which has a has a lettable area of around 13,000 square metres. In addition to the existing buildings, Sonar Real Estate and its joint venture partner Angelo Gordon plan to construct a new six-storey building, with a gross floor area of around 3,200 square metres, on the 5,900 square metre site. Planning consent has been granted and completion is scheduled for the third quarter of 2023.

Also in Berlin, Sonar Development will take on the work of extensive reconfiguration and addition of extra storeys to the former Vattenfall energy company headquarters, at Chausseestrasse 23. Sonar Real Estate, on behalf of an international real estate fund it manages Credit Suisse Asset Management, has concluded the lease of 21,500 square metres of office space in the building to the Institute for Federal Real Estate (BImA). A Federal Ministry is set to move into the building in the first half of 2024.

In addition to Daniel Jäde and Steffen Wittwer, Sonar Development's team also includes staff from Sonar Real Estate. While Daniel Jäde is a managing partner and co-founder of Sonar Real Estate, Steffen Wittwer has joined from ECE Work & Live GmbH & Co. KG, where, for many years, he served as project director in the development division.

"As well as the projects already underway and new development opportunities, the assets managed by Sonar Real Estate feature a number of larger property developments that we would like to manage and implement in the framework of portfolio instructions. Our objective is to be a partner that can cover the entire value-added chain of a development or revitalisation project. I am looking forward to the task of building up Sonar Development GmbH in this business area together with the extended team," said Daniel Jäde.

"We are also anticipating a great deal of future activity in the field of ESG-compliant rehabilitation of so-called 'stranded assets'. Here, too, I would like to contribute my many years of experience in the project development sector and am looking forward to the new challenges that await me in my role," added Steffen Wittwer, explaining his motivation for assuming a leading role in the expansion of development at Sonar Real Estate from Hamburg.