Stages A and B of the Brain Park office complex tops out in Krakow
by CIJ News iDesk III
2022-04-28 15:24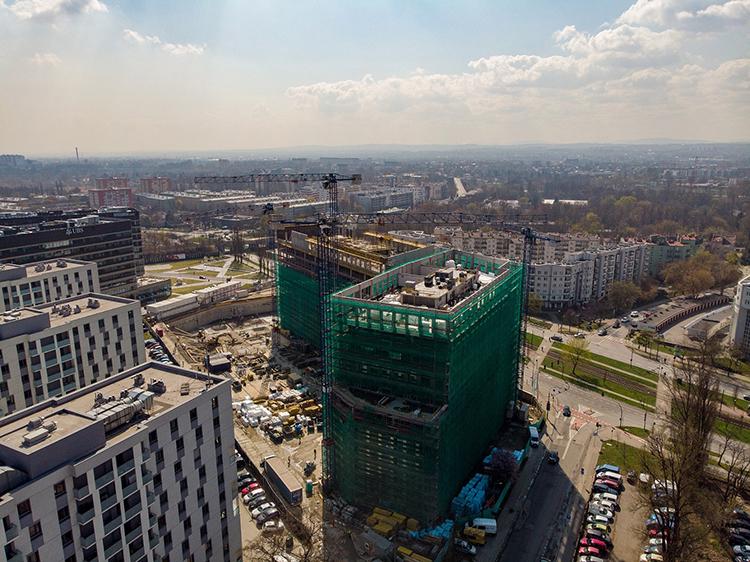 The symbolic topping out crowned the tenth floor of stages A and B of the Brain Park office complex, which is being developed at ul. Fabryczna in Krakow. This means that another office investment by Echo Investment has reached its highest construction point. Completion of the project is planned for the third quarter of 2022.

At the intersection of Aleja Pokoju and ul. Fabryczna in Krakow, the construction of the first stage of the Brain Park office complex, consisting of two buildings, is underway. The entire investment involves three 10-storey buildings with a two-level underground garage, with a total area of ​​nearly 43 thousand. sq m From the upper floors, tenants will be able to admire the panorama of Krakow with the Wawel Royal Castle in the lead role.

- We have completed construction works on buildings A and B of the Brain park office project at ul. Fabryczna in Krakow. As evidenced by the topping out over 40 meters. We carry out facade works, construction, finishing and installation works in both buildings. We plan to obtain the occupancy permit in the third quarter of this year, says Marek Rajchel, construction director of the Brain Park project, Echo Investment.

The Krakow studio BE DDJM Architekci is responsible for the architectural design of the investment. Designers focused on a simple body with a timeless elegant bright facade.

The investment is carried out in accordance with the new safe Echo Pure Office standard. The developer will install the RCI Active Pure air purification technology here, which deactivates PM pollution, viruses, fungi and bacteria, including SARS CoV-2 virus in less than 1 minute. Its use will significantly improve the air quality in the entire building.

The patio will be a distinctive asset of the investment. There will be plenty of greenery, places to rest, integration and a zone for games and activities. The developer also took care of the users of alternative and ecological means of transport. We find here electric vehicle charging stations, bicycle parking with full infrastructure: changing rooms, showers and bicycle stands.

The commercialization of the investment is in progress. PepsiCo GBS Kraków is the tenant who, among other things, will start work immediately after obtaining the occupancy permit.