UBM and CA Immo sell "Kaufmannshof" residential and office project in the Mainz
by CIJ News iDesk III
2022-06-09 11:15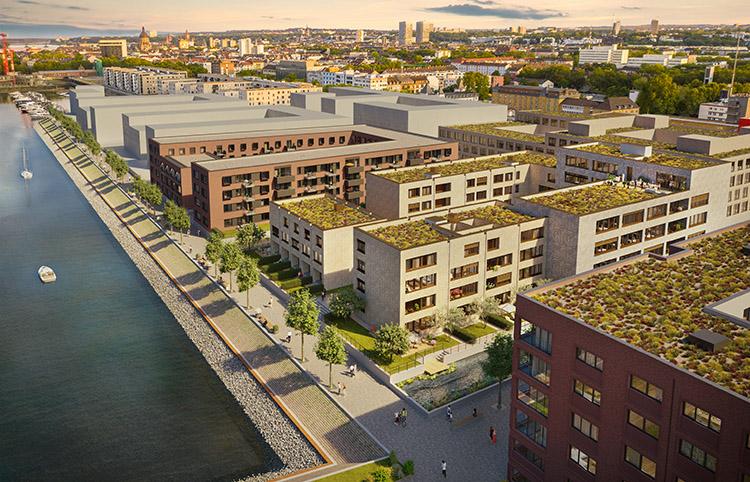 Together with CA Immo Deutschland GmbH, UBM Development Deutschland GmbH has sold the "Kaufmannshof" project in the Mainz customs port, which was developed in a joint venture, to a German family office for around €48.5 million. The start of construction for the "Kaufmannshof" on the Hafeninsel V construction site was the second quarter of 2020, and completion is planned for the third quarter of 2022.

With a variety of elements, the ensemble responds to the historic harbor architecture and at the same time creates an inspiring environment for contemporary forms of living and working. A total of 45 apartments, 5 harbor houses (townhouses) and approx. 3,277 sqm of commercial space are being built.

Christof Altendorfer, Managing Director of CA Immo Deutschland and Head of Investment Management: "As one of the district developers of the Zollhafen, we are pleased to see how our concept of a lively and balanced mix of uses is being positively received by residents, office tenants and investors. We reinvest our sales proceeds in ESG-compliant, Class-A office project developments, renovation projects or existing properties in the company's core markets."

"The project shows that our strategy green. smart. and more. is very well received by the market," emphasizes Werner Huber, Managing Director of UBM Development Germany, "so it is no coincidence that the commercial premises, which are excellent in terms of sustainability, building intelligence and aesthetics, are already around 90% rented."

The district development project at the former Mainz customs port is not new territory for both UBM and CA Immo. The "Waterkant" residential project and the "Super 8 Hotel" have already been realized and sold by UBM. The fully let office project "ZigZag" realized by CA Immo in 2021 also underlines the successful establishment of the customs port. In addition to the "Kaufmannshof", the "Flößerhof" is currently being implemented, both through the CA Immo / UBM partnership.

In the first quarter of this year, UBM Development acquired four additional building plots for a total of more than 42,000 sqm of floor space in the Mainz customs port. Around 75 percent of the areas directly on the water are intended for living and 25 percent for trade/offices, all of which are to be built using climate-friendly wood-hybrid construction. For UBM, the Mainz customs port is thus developing into one of the key projects in one of the currently most exciting cities in Germany.

Around the 80,000 sqm harbor basin, an urban mix of individually designed townhouses, condominiums for around 2,500 residents and modern office properties with around 4,000 jobs is gradually being created. Gastronomy, hotels, kindergartens, shops and highly attractive leisure activities make the Mainz customs port a sought-after address. CA Immo Deutschland GmbH and Stadtwerke Mainz AG are involved as district developers.