Union Investment adds long-stay offering to YVIE mixed-use project in Amsterdam
by CIJ News iDesk III
2022-11-22 06:13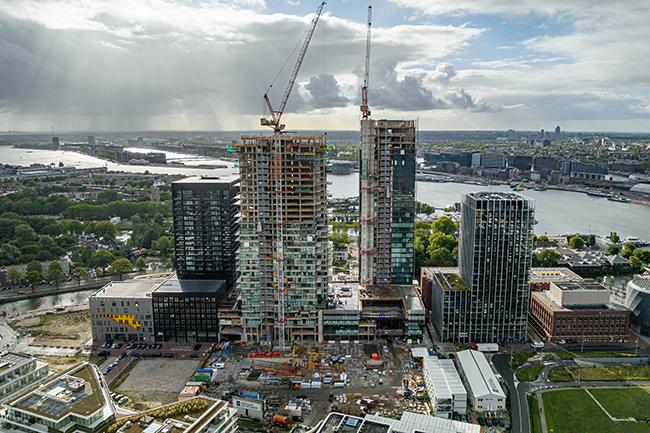 Union Investment is expanding its partnership with Staycity. The Irish aparthotel operator is set to create long-stay residential units in the YVIE mixed-use project currently under construction by Union Investment in the fast-growing district of Overhoeks, North Amsterdam. From May 2024, Staycity will operate 120 rooms across a total of some 7,000 sq m on floors 3–10 of the 31-storey residential tower, one of the two buildings that make up the YVIE ensemble. The other floors of the residential tower will accommodate 176 rental apartments, which are being marketed directly by Union Investment. The lease signed with Staycity has a term of 25 years. Entry into the Dutch market brings the number of hotels in Staycity's portfolio to 33.

"We have great confidence in the innovative capacity and resilience of this successful asset class, and are keen to work with strong operators to expand our long-stay provision. We are particularly interested in concepts that can be successfully integrated into mixed-use projects like YVIE," said Thorsten Purkus, Head of Asset Management Hospitality International at Union Investment. Staycity will also provide concierge services, a coffee bar, a gym and a roof terrace for the future residential and office tenants of the YVIE complex.

"With our Wilde properties currently in Berlin, London, Edinburgh and Manchester, Amsterdam is the perfect addition to the portfolio, particularly this spectacular building in such a vibrant, up-and-coming area," commented Staycity Group CEO and co-founder Tom Walsh. "Staycity now has nearly 6,000 apartments across 33 properties with our growth plans soon to take in Portugal as well as additional sites in London, Paris, and Munich so we're delighted to be adding the Netherlands to our fast-expanding estate."

Markus Beike, Staycity's development director Germany and CEE, said: "We are very excited to be partnering with Union Investment on this landmark property in one of Europe's most popular cities. Wilde offers something a little bit different, appealing to both business and leisure travellers looking for great quality, contemporary self-catering apartments that stand out from the crowd – the perfect fit for this sophisticated location."

Union Investment has 90 hotels in its hotel portfolio, including a Wilde aparthotel by Staycity in London acquired last year. The property is let to Staycity for a period of 30 years. Australian long-stay operator Adina has operated 169 apartments in the Tower on Mailänder Platz complex in Stuttgart since 2021. Both properties are held by open-ended real estate fund UniImmo: Deutschland.

The YVIE new build ensemble has a gross floor area of 106,000 sq m. With the Maritim hotel occupying the neighbouring building and Staycity in the residential tower, around 75 per cent of the entire project has already been pre-let some 18 months ahead of the scheduled completion date. YVIE forms part of the portfolio of open-ended real estate fund UniImmo: Europa. The fund also holds other properties in Amsterdam, including the ITO and SOM office building ensemble, UN Studio and a Motel One budget hotel.