Walter Herz recognized at HOF Awards 2023
by CIJ News iDesk III
2023-05-16 18:25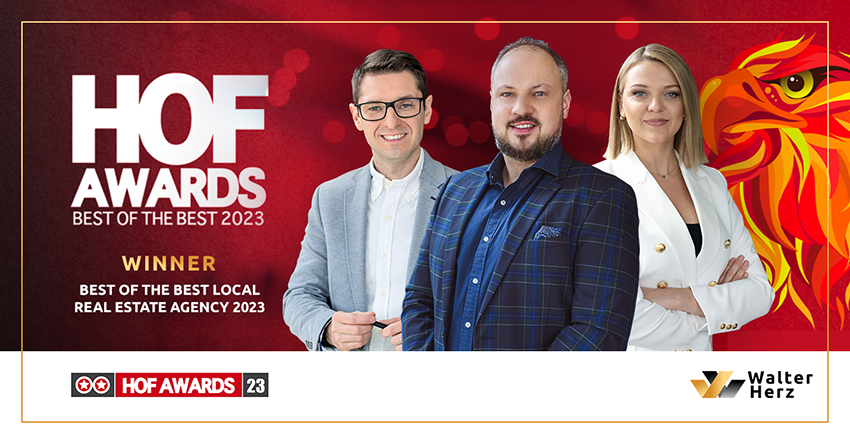 Walter Herz company won Best of the Best Local Real Estate Agency of the Year in the region of Central and Eastern Europe in the CIJ EUROPE competition

Walter Herz, one of the leading consulting companies on the Polish commercial real estate market, received Best of the Best Local Real Estate Agency of the Year award at HOF Awards 2023 organized by CIJ - Construction & Investment Journal, a renowned industry magazine dedicated to the real estate market in Central and Eastern Europe.

Polish agency won Best of the Best Hall of Fame Awards, the culmination of a series of CIJ Awards organized in individual countries, in a competition in which winning companies, investments, projects, innovative concepts and solutions introduced in Central and Eastern Europe are awarded at the regional level. This year's event was attended by companies and projects from Czechia, Poland, Romania, Bulgaria, Serbia, Slovakia and Hungary.

Walter Herz has been providing strategic support to tenants, investors and property owners for over 10 years. The company's operations include comprehensive support at every stage of the real estate lease process, ensuring optimization of costs and securing the rights of the tenant, as well as strategic advice on the purchase of investments, project management aimed at increasing the value of the assets, up until their sale.
Several dozen Walter Herz advisors are involved in activities carried out on the Polish real estate market in the office, warehouse, retail, PRS, hotel and land development sectors. The agency is constantly developing its organizational structure and creating regional branches. They share the knowledge about the market during their own educational project Walter Herz Tenant Academy.

"We are extremely proud to be the winner of the oldest industry competition organized in Poland since 2002. The title of Best of the Best Local Real Estate Agency of the Year, which we won at this year's HOF Awards, organized in the CEE region, is an inspiration for our further development. We are glad that our commitment to work related to the commercial real estate sector in Poland and the effort put into the development of the company have been noticed and appreciated by the international jury. Such a prestigious award is a great distinction for us," says Bartłomiej Zagrodnik, Managing Partner, CEO of Walter Herz.

CIJ EUROPE award in Rising Star of the Year category was awarded to Walter Herz for the first time in 2016. The company also won the Best Local Agency of the Year 2022 in the CIJ AWARDS competition organized in Poland, and then won at the regional level in Central and Eastern Europe during the 8th edition of HOF Awards.

HOF Awards are granted to the leading professional entities operating in the real estate sector in the region of Central and Eastern Europe. HOF Awards event continues the long tradition of CIJ Awards, which dates back to early 2001 and now covers Czechia, Poland, Hungary, Romania, Serbia/SEE and Slovakia.