Work has begun on the next extension of Dekada Grójec
by CIJ News iDesk III
2022-09-19 13:41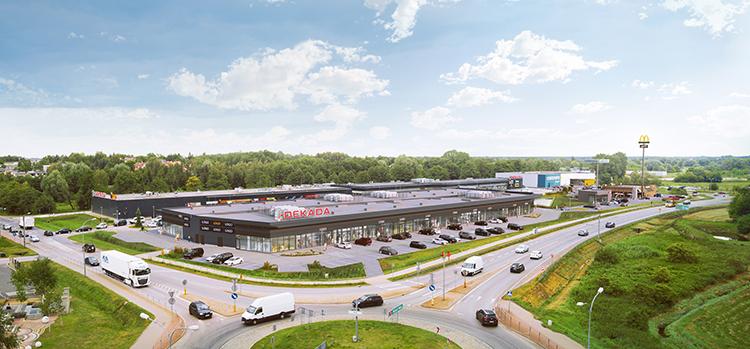 Work has begun on the next extension of Dekada Grójec, a facility belonging to the Dekada SA group. Soon the customers of the shopping center will shop at the Castorama store.

In 2023 Dekada Grójec will be enlarged by a new tenant. Work on the construction of the facility for Castorama has already started.

"Castorama Smart is a new compact, compact store in which shopping will be quick and convenient. Such features are inherently in line with the idea of ​​the Dekada chain, which is to facilitate easy, comfortable and efficient shopping. Increasing the offer of Dekada Grójec is the next stage in the expansion of our facility, which over the years has strengthened its position on the market and increased the range of impact on the area of ​​the entire poviat, which is a strong argument for further expansion of the existing infrastructure. A few years ago, the area of ​​the center increased by almost 3,000 sqm. Even then, we knew that it was not enough, because the potential of the facility is even greater. We continue to develop, we are preparing for the next expansion, the first stage of which is the construction of a dedicated facility for Castorama Smart, and then another commercial building with an area of ​​approx. 2,500 sqm. In total, Dekada Grójec will cover over 13,000 sqm," says Aleksander Walczak, President of the Management Board of Dekada SA.

The compact formula of the new Castorama store will allow for efficient shopping and a convenient choice from a range of over 15,000 products available immediately. Customers will be able to order other products from the company's offer online or by phone with the option of delivery to Castomat and pick up their order within 2 hours.

Currently, customers of Dekada Grójec have at their disposal three single-storey buildings with a total area of ​​approx. 8,200 sqm. The facility is located at ul. Armii Krajowej 50, right next to the city beltway and not far from the S7 expressway, which ensures easy access from the entire poviat. The gallery format has been designed in such a way as to allow for quick, convenient and safe shopping. As a result, Dekada Grójec records high footfall results and is positively received by customers.

The offer of the center consists of shops of well-known and popular brands such as Biedronka, Jysk, Empik, Smyk, Diverse, CCC, Takko Fashion, Pepco, KiK, Kaes, Media Expert, Rossmann, Martes Sport, 50 style, Midi Zoo and Marilyn. All stores have entrances directly from the parking lot for 180 cars. There is also a food truck zone in the center, as well as a generally accessible parcel collection point and an ATM.
BOIG Property Consulting is responsible for the commercialization of the facility.