EuroCenter shopping mall to be reborn under the name GOBUDA Mall
by CIJ News iDesk III
2021-11-23 09:16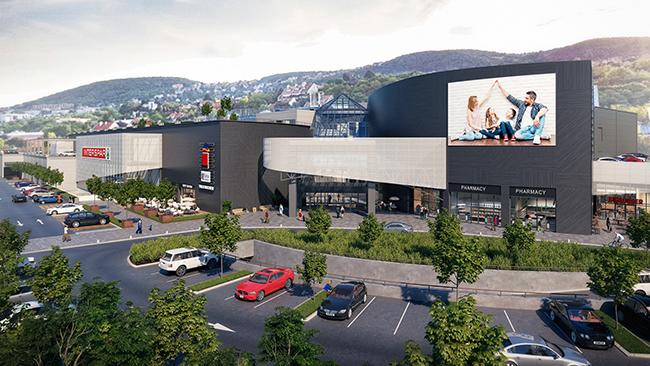 Following its renovation implemented by WING, EuroCenter shopping mall will welcome shoppers from Spring 2022 with an almost completely new building and new name, GOBUDA Mall. The development project will be implemented by WING, one of Hungary's largest real estate companies, the owner of EuroCenter. Renovation works in the Óbuda building commenced in Spring 2021, and once complete, will no doubt turn the mall into the favourite shopping and experience centre in North Buda and its surroundings. The lease ratio of the building, which will undergo renovation inside and out, is already almost 70 percent, however, a limited number of spaces are still available for rent.

18. November 2021. The Óbuda shopping mall EuroCenter is to be renewed under the name GOBUDA Mall, and is scheduled to reopen its doors to visitors in Spring 2022. Thanks to WING's project, serving to increase the value of the property, the mall will bring to North Buda a modern and people-oriented complex, which may become a popular community space in the area. It will stand ready to host a number of interesting programmes, such as recurring events or gastro festivals. The aim of the complete interior overhaul and renewal of the building, in addition to reinforcing its people-oriented character and ensuring sustainability, is for the complex to meet the demands of the twenty-first century to the maximum extent possible and ensure an outstanding shopping experience.

Beyond its architectural modernisation, the shopping centre will also see a significant expansion of its range of services and businesses. In line with the mall's high-quality character, the previous FMCG and non-food magnet tenants will be joined by additional high-quality gastronomic stores and catering facilities. Future visitors will also have a range of international multibrand and monobrand stores to shop, and may enjoy a renovated movie theatre and rooftop garden. Thanks to its flexible layout and community spaces, the mall will offer opportunities for quality free time activities through community programmes. Residential needs will be taken into priority consideration when determining the ideal mix of tenants. As a result, restaurants, cafés, a bakery and a confectionary with patios, also serving as meeting spaces, will play leading roles, in addition to fast food restaurants in the food court, representing international cuisines. The INTERSPAR hypermarket located on the ground floor of the complex will also reopen with a uniquely modern exterior and a revamped sales floor. On top of the building, a green park of 2,000 square metres, complete with a playground, will be built.

"With over twenty years of professional experience, WING has already implemented three shopping mall development projects. The GOBUDA Mall project follows the successful completion of the Agria Park in Eger, the launch of the Hegyvidék Mall project and the repositioning and renovation of MOM Park. As one of Hungary's leading real estate companies, our priority aim also when developing shopping centres is to create modern and quality complexes that contribute to boosting business in the area, meet the demands of the present day and reflect on new trends. Therefore, the concept of GOBUDA Mall focuses on human beings and the environment", says Noah Steinberg, CEO of WING Zrt.

GOBUDA MALL will be renewed fully in line with the requirements of the accessibility framework Access4you. Interior spaces and restrooms will be fully accessible, and parking garage levels will be also modernised to serve persons with mobility impairments and disabilities, as well as visitors with baby strollers. In line with the pandemic situation, solutions serving to disinfect the building and touch-free functions will protect visitors' health. Moreover, environmentally conscious and sustainable solutions will also play a role: in addition to a green rooftop park, the project includes bicycle storage facilities, electric vehicle charging stations, as well as car sharing parking spaces and an automated package delivery station in the underground garage to serve visitors' needs.