Dekpol has a permit for the next stages of Sol Marina near Gdańsk with 267 apartments
by CIJ News iDesk III
2021-07-26 08:40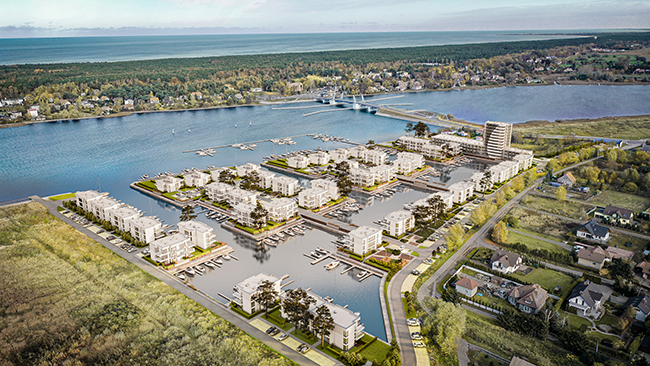 Dekpol Inwestycje Sol Marina - a subsidiary of Dekpol - received the final decision of the permit to build a complex of apartment buildings as part of the 2nd and 3rd stage of the Sol Marina project together with the necessary infrastructure and road system with parking lots in Wiślinka. All stages include a total of 267 apartments.

As part of the above-mentioned stages of the Sol Marina investment, the construction of 31 apartment buildings is planned, which will include 267 apartments with a total usable area of ​​approximately 12,000 sqm, 293 parking spaces and 129 mooring places. of the investment stages will amount to approx. 26% of the revenues of the Dekpol capital group for 2020. The implementation of stage II and stage III of the investment will be completed in Q2 2023 and Q2 2024, respectively. The first premises will be commissioned in Q2 2023 and in The second quarter of 2024, the company annouced.

At the end of June, Dekpol announced that it had completed the construction of the first stage of the Sol Marina complex in Gdańsk, which includes 77 apartments.

The Sol Marina complex is located 500 meters from the Sobieszewo Island, on the shore of the mouth of the Martwa Wisła to the Baltic Sea. The investment is located 14 kilometers from the center of Gdańsk. Dekpol Budownictwo is the general contractor of the investment.