Construction of the most energy-efficient office buildings in Poland at the halfway point
by CIJ News iDesk III
2022-11-28 09:17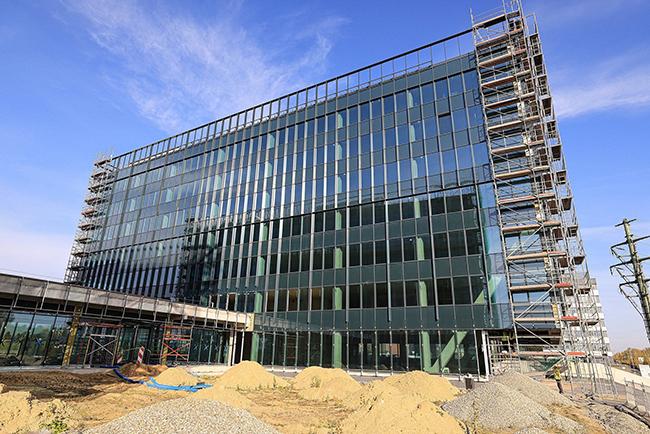 Construction of the first two ECO City Katowice buildings being developed by GPP has reached its target height. The investment has earned the highest rating in the European Union of 94% under BREEAM certification, and nearly 60% of its space will be occupied by green areas. These are the most user-friendly and energy-efficient office buildings in Poland.

The buildings on Konduktorska Street in Katowice are just finishing the installation of a glass façade with a silver ion coating, which will provide ideal access to natural light and optimal thermal comfort for users. In the ceiling of the entrance hall connecting the ECO 1 and 2 office buildings, the installation of a skylight of impressive size of 106 m2 has begun. Removal of scaffolding around the buildings will also be completed soon. The commissioning of the first stage of ECO City Katowice is scheduled for late 2023 or early 2024.

Thanks to the use of state-of-the-art energy-saving technological solutions in the office buildings built by GPP to date, the buildings have previously unattainable efficiency indicators. Consequently, this results in a measurable increase in labor productivity, a decrease in morbidity rates and a marked reduction in utility costs, and is in line with the expectations arising from increasing environmental awareness and energy efficiency combined with minimizing the project's negative impact on the environment.

"The current market situation and the associated drastic increases in the prices of energy carriers have resulted in the fact that no one passes by our investments indifferently anymore. Thanks to halving the energy demand of buildings, today we achieve from 12 to even 20 PLN/m2 savings of leased space on a monthly basis," stresses Mirosław Czarnik, CEO of GPP S.A.

ECO City Katowice will provide 30,000 sqm of modern, user- and environment-friendly and energy-efficient office space (including 1,900 sqm of coworking space) and about 1,000 parking spaces. At the heart of the complex will be ECO SQUARE, a recreational and leisure green zone that will make greenery an integral part of the buildings and their users. ECO SQUARE is a symbolic reference to the protection and support of nature in urban space, which, thanks to the dominance of pedestrian traffic, arranged greenery and designed elements of small architecture, will foster integration, become a place for daily meetings and recreation, as well as a space for leisure activities. The space will be distinguished by a diverse topography in the form of green slopes, flower gardens and green enclaves, which will emphasize the symbiosis of the natural environment with modern and energy-efficient construction.

"ECO City Katowice will use solutions implemented and proven by GPP, such as combined production of electricity, heat and cooling (trigeneration); window and facade system with high thermal insulation; obtaining electricity from photovoltaic panels; energy-efficient elevators providing electricity recovery; obtaining natural cooling from the environment (freecooling), using gas heat pumps to cover peak demand for cooling, and a fully integrated building management system (BMS). For the safety of tenants, in case of disruptions in electricity supply, we will provide each building with access to three independent sources of electricity supply," adds Janusz Mitręga, Vice President of the Management Board of GPP S. A.

"In addition, with the occupants' comfort and health in mind, we will use an air-conditioning system based on heating-cooling beams and flow controllers (VAV) in the premises, along with a high-performance ventilation system to ensure the highest air quality, as well as full monitoring of guaranteed thermal comfort parameters. We will also provide tenants with a range of amenities and additional services in the form of, among others: viewing terraces overlooking the center of Katowice; underground parking for cyclists (along with locker rooms and showers); charging stations for electric vehicles; a steam car wash for cars and a large selection among service units," adds Janusz Mitręga.

Independent auditors of the BREEAM system awarded ECO City Katowice the highest rating of "Outstanding" at a record 94%. This is the best score among pre-certified environmentally friendly office buildings in the entire European Union.

ECO City Katowice was designed by P.A Nova S.A., based in Gliwice. The general contractor is New Construction Concept sp. z o. o., based in Katowice. The international consulting firm Cushman & Wakefield is responsible for the commercialization of the offices.