Kassák Terrace, the final phase of LIVING's Kassák project, kicks off
by CIJ News iDesk III
2022-01-12 10:44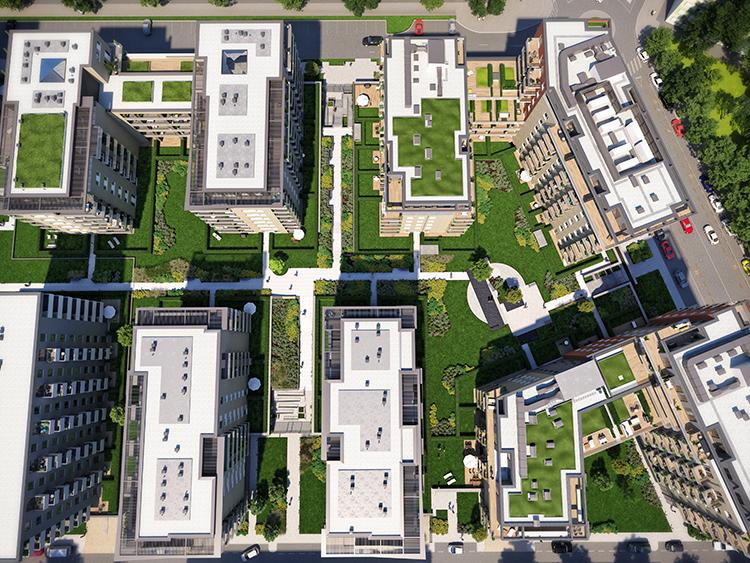 As part of the third and final phase of LIVING's Kassák project, the residential development Kassák Terrace will see the construction of 246 apartments in District 13, at the intersection of Klapka utca and Kassák Lajos utca, a short walk from Váci út. The residential project combining high-quality technical infrastructure and an optimal price-quality ratio offers future home owners both community services and smart solutions - in keeping with LIVING's quality standards. Kassák Terrace offers practical studio apartments as well as large five-room penthouse units with panorama views. All homes boast efficient layouts and allow plenty of natural light to enter, and may be purchased with a VAT rate of just 5 percent. The project is scheduled for completion in the first half of 2025.

The residential park is conveniently located, in close proximity to Váci út, ensuring easy access to outstanding infrastructure and a broad range of services in the vicinity. Downtown Budapest is easily accessible by automobile and public transport, yet the residential park is located in a quiet, calm area. Kassák Terrace is also a perfect choice for those who prefer an active lifestyle. Margaret Island, the Danube and the City Park, currently undergoing renewal, are just a short walk away, or may be reached via the bicycle paths serving the neighbourhood.

As LIVING demands for all of its projects, Kassák Terrace is favourably rated in terms of energy efficiency. The residential park will be built with heat pumps, as well as surface heating and cooling solutions. The completion of Kassák Terrace will complete the 9000 sq m interior park of the Kassák project, which will contribute to the expansion of green space in the area.

In keeping with LIVING's developments, Kassák Terrace will offer community solutions to make residents' daily lives as easy as possible: the community living room will serve not only as a place for relaxation, but will also offer a co-working workspace, including business corner services. Other unique services available include a library, a cleaning service, a toolshed, car-sharing services and a 24/7 parcel delivery point. As part of the services offered by LIVING's provider, LIVING Service, professional assistance is available for, among others, the rental or technical delivery of the apartments, whether the property was purchased for residential use or as an investment.

As befitting all LIVING homes, Kassák Terrace offers smart apartments. The SMART LIVING package offers services such as a central unit, smart sockets, free WiFi service and heating control, all included in the basic SMART Home plan offered at no cost. The optional SMART+ package, available for an extra charge, includes additional amenities to make residents' daily lives even more comfortable.