WING has handed over two new industrial halls at the East Gate Pro Business Park
by CIJ News iDesk III
2022-10-27 10:59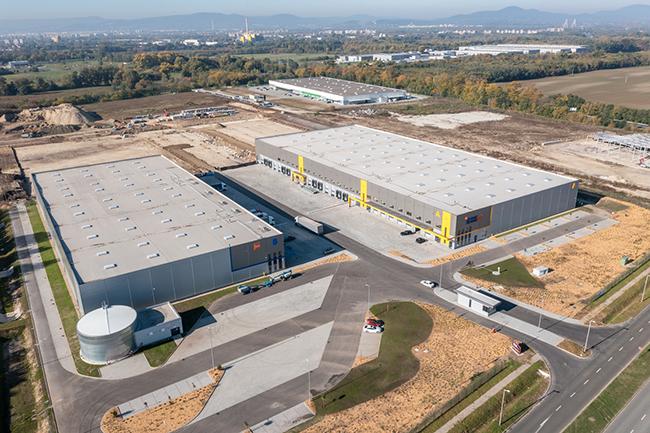 WING has completed the first two halls of East Gate PRO Business Park in a development that follows the popular East Gate Business Park. The construction of the two new halls, A1 and B1, which have a total area of nearly 20,000 square metres, comes in response to the great success of East Gate Business Park and Login Business Park, as well as to growing market demand. The contractor of the development project was Weinberg '93 Építő Kft., and financing was provided by UniCredit Bank.

East Gate PRO has outstanding accessibility: it is located in Fót, where the M0 and M3 motorways meet, and it is only a few minutes from Megyeri Bridge. The specifications meet BREEAM's Very Good rating criteria, and the exceptionally high quality heat insulation provides a minimum indoor temperature of 16 °C. Eco-friendly, easy-to-clean building materials with no harmful components were used in the construction, and special focus was put on energy-efficient solutions. Technical specifications include an ESFR sprinkler system, smart meters and a large car park with a licence plate recognition access control system and electric car chargers.

By the time it was completed, 75% of East Gate PRO's available space had been leased. Construction of the next phase of the business park has started, with digging and foundation work for buildings A2 and B2 underway. The expected completion date is Summer 2023.

With the 230,000 square metres of completed halls and an additional 60,000 square metres of development potential in East Gate, East Gate Pro and Login Business Parks, WING is a key player in the northern part of Budapest.

WING's industrial property portfolio of nearly 300,000 square metres has an almost 100% occupancy rate. With the current size of its portfolio and with the additional 200,000 square metres of development potential, the group has become a major player in the Hungarian industrial and logistics property market in recent years. Always working on new developments, WING is now providing customised and modern halls to major companies, including Philip Morris, Phoenix Pharma, Wizz Air and fulfilment services provider Webshippy.