WING receives awards in five categories at this year's CIJ Awards
by CIJ News iDesk III
2023-02-11 12:24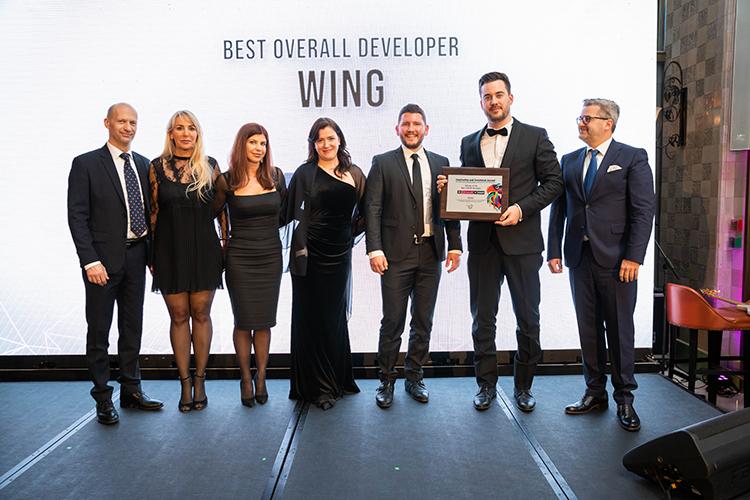 WING Ltd., was rated top in several categories at this year's Construction & Investment Journal (CIJ) Awards. At the awards ceremony, which was held on 9 February at the Gresham Palace, WING was recognised in the Best Retail Development for GOBUDA Mall, Best Residential Upcoming Development for Le Jardin, Best Office Upcoming Development for Liget Center project, the future HQ of RTL Hungary. Beside these the company was awarded in Best New Office tenant Lease transaction for eMAG-Extreme Digital's contract in Liberty and Best Overall Developer categories.

WING achieved outstanding results at this year's CIJ Awards. Key operators on the property market attended the 16th edition of the prestigious Construction & Investment Journal (CIJ) Awards Hungary, which was once again held at the Four Seasons Hotel in Gresham Palace in Budapest. WING received awards in a total of 5 categories. The CIJ Awards, one of the first professional awards on the regional commercial property market, aims to showcase and reward the most outstanding achievements in the field.

"Since it was established, WING has become a major developer and investor in the Central European property market, and 2022 was a very productive year for the company. We had ongoing projects in virtually every market segment, and we completed new retail, industrial and residential development projects. We also had several transactions. Our Polish subsidiary, Echo Investment, had excellent results both in terms of the number of residential units it completed and in terms of its financial indices. And 2022 was a milestone for WING: by acquiring a majority stake in Bauwert, we entered the German property market. Our stake in Bauwert is another step towards the implementation of our international expansion strategy that will see us become one of Europe's leading property developers. WING is proud that its achievements have been acknowledged by the professional community. The Group is also proud to be one of the winners at the CIJ Awards again this year," said Noah Steinberg, Chairman and CEO of WING Zrt.

In the Best Retail Development category, WING received an award for the GOBUDA Mall project. The complete renovation, which took ten months to finish, transformed GOBUDA Mall into a modern building that meets the needs of today's consumers. It has a total leasable area of 21,000 square metres with space for around 100 stores, and various services are also available. The building has been completely renovated inside and out, and it has new functions too: some of the former technical areas have been converted into offices, and a green roof terrace, a roof garden and a playground will be added in the near future.

In the Best Residential Upcoming Development category, WING received an award for the Le Jardin project, which is a LIVING development. Le Jardin is LIVING's most environmentally friendly project to date. It incorporates structural engineering solutions wholly based on renewable energy sources, an environmentally friendly choice of materials, selective waste management, environmentally responsible water consumption, rainwater recycling and surface cooling and heating.

In the Best Office Upcoming Development category, WING was awarded for its Liget Center project. The two existing buildings at Liget Center will be the main base for RTL Hungary from 2024, while the new building will have offices space suitable for company headquarters, with green, and smart solutions and cutting-edge technical features.

In the Best New Office tenant lease Transaction category, WING's mixed-use complex, Liberty, was ranked first, as eMAG-Extreme Digital has signed a long-term lease agreement for the 3,800 square metre office space in the development. The company is expected to move into its new office on the third and fourth floors of the building's south wing, which faces Könyves Kálmán körút, in spring 2023. The property will boast the same high quality for which the developer has become known, incorporating office functions in line with modern demands, including community spaces, and its own terrace and a conference room designed to accommodate meetings both large and small.

On top of all this, WING Group was ranked first in the Best Overall Developer category as a recognition of its decades-long history and achievements.